Helka Brewery opened its beer garden at a prime location, right at lake Balaton, in the summer of 2021, in Balatonföldvár. We are developing our Helka Brewhouse – renovating an old MAV (Hungarian Railway) building – where our brand-new stainless-steel tanks are eager to move in. Our primary goal is to provide quality craft beer around lake Balaton. Until our Helka Brewery is operational, we are brewing our first assortment at a fellow brewery. Our first beers include a full-bodied Bavarian wheat beer, an airy Kölsch and a classic IPA with new-world hop. 
The founders of Helka Brewery – Fülöp Tihanyi, Sándor Dávid and Alex Kun – gained multiple years of relevant experience at craft breweries, like Hedon, at Pannonhalma Abbey and Hübris.
We will also have the chance to brew great specialty beers to drive your passion for our craft beers.
Sörkertünk csodálatos környezetben, közvetlenül a Balaton-parti platánsor árnyékában fekszik. A panoráma, a hangulat, valamint étel- és
ital kínálatunk gondoskodik róla, hogy vendégeinket is azonnal rabul ejtse a "Helka-érzés". Feltett szándékunk egy olyan vidám és nyitott
közösségi tér megalkotása, amely hűsítő söreink kortyolgatása közben minden kedves látogatónk számára kikapcsolódást nyújt. Nyáron szabadtéri programoknak, valamint élőzenés rendezvényeknek is otthont adunk.
További részletekért kövesd a "komló-halat" Facebookon és instán is:
https://www.facebook.com/helkasorfozde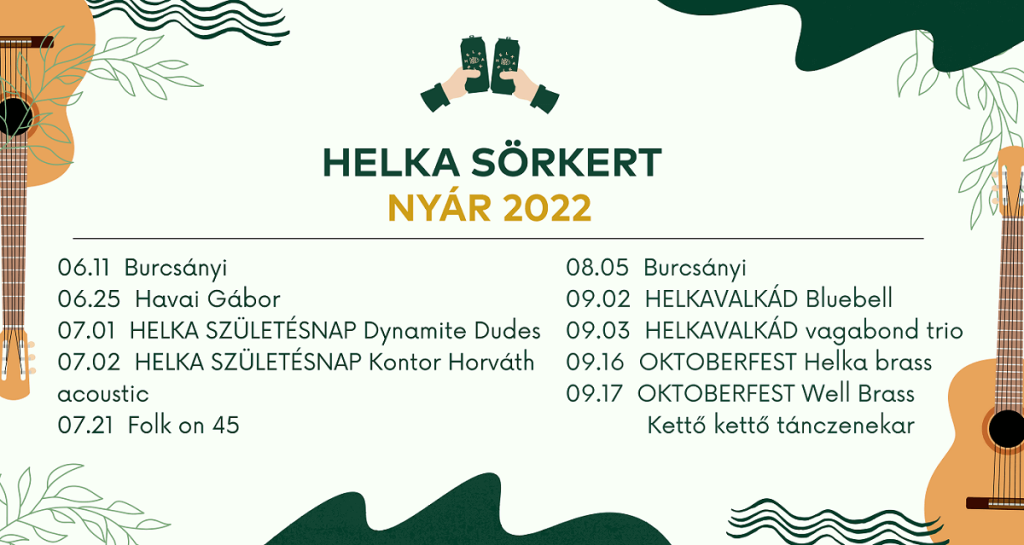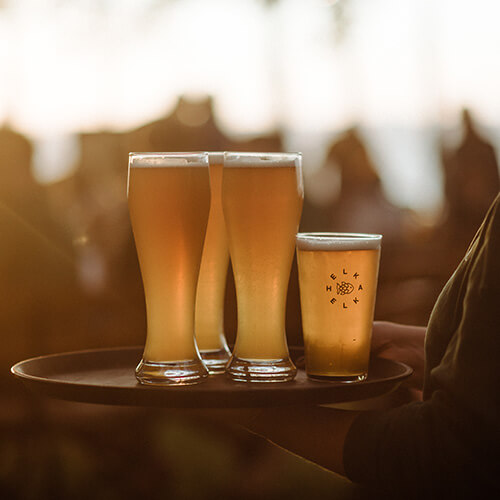 Join our team as a resale partner!
If you'd like to expand your menu with beer from the Balaton area, you have found the perfect partner!
Please don't hesitate to contact us for more information: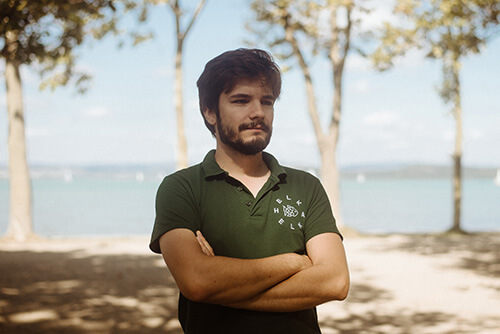 I graduated from the Food Science program at Szent Istvan University in 2016 and I became a food engineer in the field of Beer and Liquor-making. I spent my internship at Hedon and Monyo breweries…
For my thesis I experimented with developing a method of growing yeast in-house that is applicable for small-scale breweries. In these experiments I conducted tests with a yeast family that is normally used for making kölsch-style beers. Once I was able to make a substantial amount, we hastily started making Kolsch at Monyo Brewery, since the guys there were also big fans of the style. The first 1000 liters (264 gallons) were gone in almost an instant, so, soon we were making 2000-liter batches and it became a regular supply. For a short period, I returned to my university to work as a faculty engineer, where I participated in developing new products for small breweries and a large beer factory as well, in the university's own lab. After this I joined in starting up the brewery of the Pannonhalma Abbey and helped create the first recipes as manager and brewer. While working at home I had the opportunity to visit a couple Trappist breweries where I caught a glimpse of secrets of traditional brewing techniques. Creating Helka was a long-time dream of mine coming true, for the three of us to start a brewery in the Balaton region, making the local gastronomy more colorful with our beers.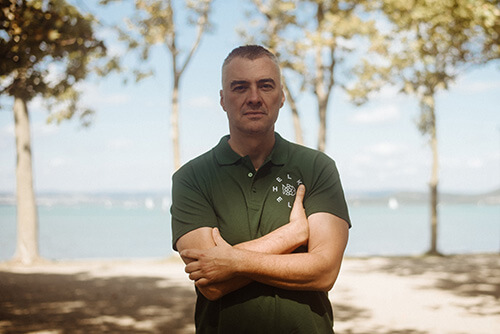 I had just reached my approximate middle age when I took my first sip of a new wave, craft IPA. I was completely taken aback that beer can be like this…
Within a year I was working for the same brewery first as a sales manager and shortly as the company manager, while I was finishing my second diploma in Corvinus University's program of food industry, of course my focus being on beer. My world was turned upside down and this journey is still ongoing. I got my colleagues to get on this rollercoaster with me with the idea of creating our own brewery. They of course did not hesitate to say yes. Then we began the work and the years went by fast, so fast I soon just ended this short introduction.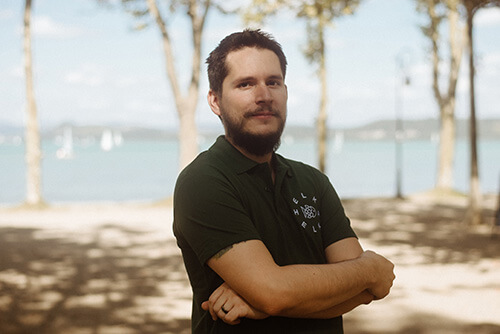 I was infected with the love of beer on a trip to Belgium, and I have been "suffering" from it ever since. I decided in 2011 that I will also pursue this career, so I began to brew at home with the help of a jam-maker machine…
I experimented a lot with wheat and of course Belgian beers. My love for the craft has led me to audition the then newly opened Monyo Brewery, where I became a member for a short time. Then I was delegated to Hedon that also had just opened, in Balatonvilágos. My love for the lake originates from this time, and it is when I decided to live and create by lake Balaton. I lived in England for a year where I also traveled the county of Devon, visiting tiny breweries and learning all the tricks from local brewers. I was called home by Hedon at this time to become the operations manager, which was my position up until the company was bought. After that I worked as operations manager at Fehér Nyúl (White Bunny) for a short period, then also as operations manager and technician at Hübris in Székesfehérvár. I have been to many breweries in the past 10 years to expand my knowledge and technical skills. Dóri Lakner It all started with an old, childhood friendship…After quite a few years of working in sales and even more years of event planning and operations, an evening phone call turned my peaceful little life upside down. I had only ever been the consumer of craft beer up to that point, to be exact, I had been taste-testing Alex's beers since his jam-maker era, but I never thought I would one day work with him as well. My experience working in the cultural-event planning sphere prepared me very well for working with the guys in this very colorful job.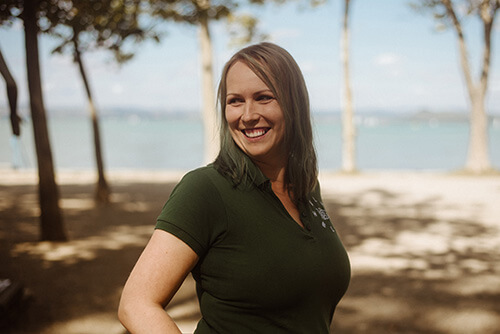 Mire nem jók a gyerekkori barátságok… Jó pár év értékesítésben és még több kulturális rendezvényszervezésben, üzemeltetésben eltöltött év után egy esti telefon felborította nyugodt kis életem. 🙂 
Kisüzemi sörhöz eddig csak felhasználó szintű kapcsolatom volt. Egészen pontosan Alex első söreit a " lekvárfőzős" korszak óta kóstolgattam, de sosem gondoltam volna, hogy egyszer együtt is fogunk dolgozni. A kulturális szférában eltöltött sok területre kiterjedő munkakör kellő felkészítést adott a srácok melletti sokszínű munkára. 🙂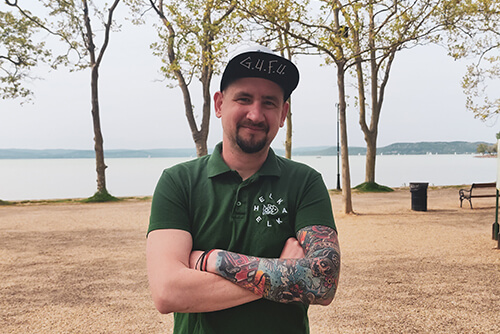 I was hit by the wind of hops through a childhood friend of mine, Jancsi Bakó, in the beginning of the 2010s, and this grip of admiration has not let go of me ever since…
It was just a hobby of mine for a long time, since I worked in a very different field before Helka, but I continually trained myself in beer. I visited breweries, courses about beer, and of course pubs as well. I became a certified restaurateur and bartender too, and I bartended at a few craft-beer places as well. In the meantime, I started giving beer courses with two of my friends, which solidified my desire to make a career in the world of beer. This is when the demand met the supply, as Alex (whom I've known from his Hübris era) was looking for teammates and I took this opportunity to join them. An extra spice to the story is that I spent my childhood summer days near Balatonföldvár in my mother's vacation home, so everything seemed to come together for this "Helkadventure". ☺
Brewery and Beer Garden Manger